ORiN Consortium
Purpose
This consortium promotes the widespread use of ORiN, which is technology for connecting industrial machines using different architectures.
It also provides education relevant to facilitating the establishment in the manufacturing industry of the common infrastructure technology necessary for the realization of an open data exchange environment for robots and other production systems. Through these activities, we aim to contribute to the healthy development of the manufacturing industry.
Activities
Our activities support the widespread use, maintenance and development of ORiN.
Widespread use of ORiN

We promote the widespread use of ORiN through the disclosure of specifications and programs on our website. We also organize ORiN seminars and workshops that are necessary to enhance the understanding of ORiN, and also offer consultancy on the use of ORiN in business.

Maintenance and development of ORiN specifications

We continuously improve and revise the specifications of ORiN and update them regularly to ensure that ORiN continues to be a solution for the needs of the moment.

Management of ORiN software

We manage (store, distribute and upgrade) standard software that conforms to ORiN specifications.
Operational organization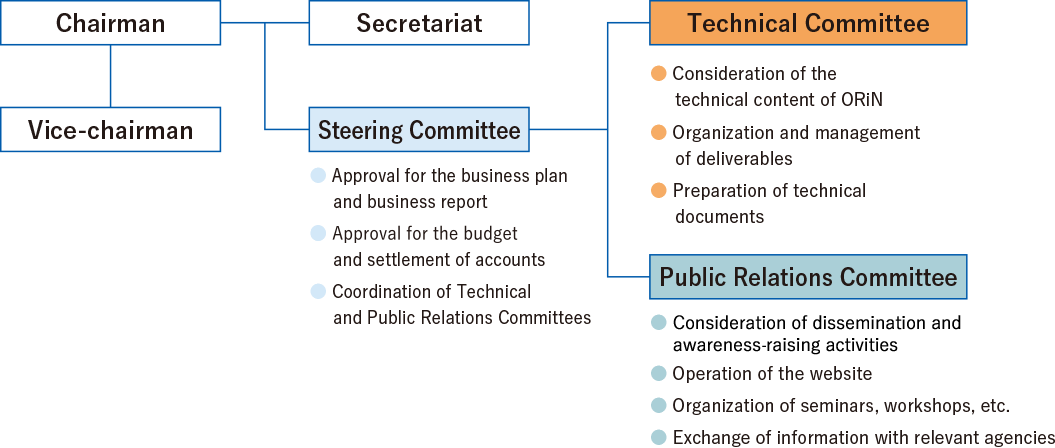 For more details, refer to the ORiN Consortium's constitution.
Contact
ORiN Consortium Secretariat

Department of Technology, Japan Robot Association(https://www.jara.jp/e/)
Kikaishinko Bldg. 3F, 3-5-8 Shibakoen, Minato-ku, Tokyo, Japan 105-0011