Ever-evolving ORiN
Periodic upgrade in response to changes in the IT industry
Since the start of its development in 1999, ORiN has been continuously upgraded and updated. The version is upgraded in response to major changes in the IT industry. Each version also continually updates for emerging data communications standards, which evolve almost every year.
ORiN evolves flexibly and continuously adds to compatible standards. Thanks to those features, its technology never becomes obsolete and ORiN can integrate a variety of old applications and devices with future new ones.
ORiN has always kept evolving in relationship to changes in demand for data communications. It will continue to evolve to support the standardization of data communications.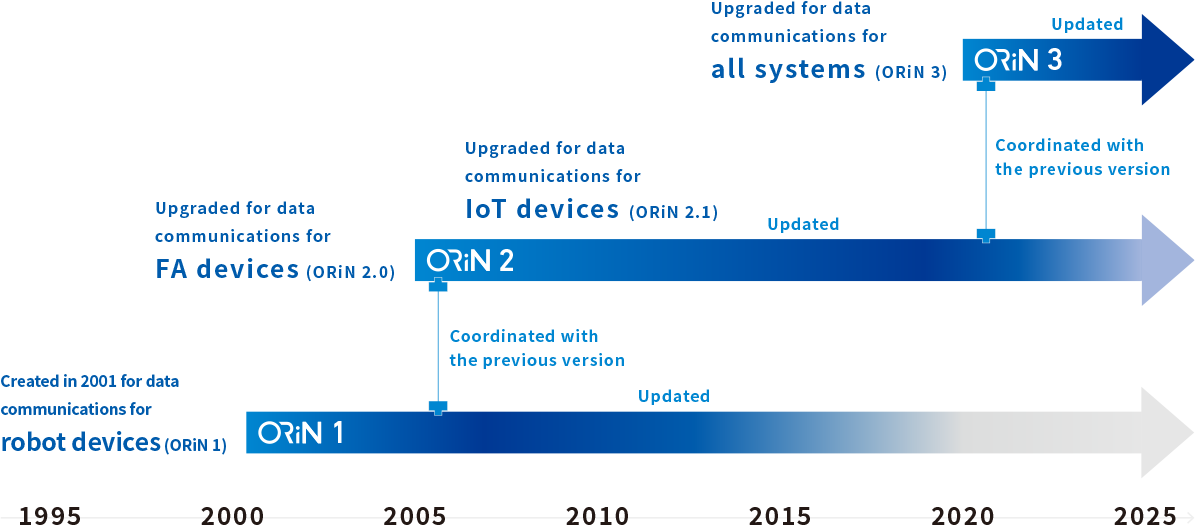 More than 80,000 paid licenses have been issued worldwide (as of 2023)

History of ORiN
1999

Launched by the Japan Robot Association as part of its activities toward standardization.

* The project started in full swing with three-year support from NEDO (New Energy and Industrial Technology Development Organization).

Participator in the International Robot Exhibition.
* Tests to verify its connection with the exhibitors' robots were conducted in 2001.
2001

Specifications completed for ORiN Version 1.0.
2002

ORiN Consortium was set up to promote activities for widespread use and functional improvement.
2005

Specifications completed for ORiN Version 2.0.
2006

Commercialized as ORiN2 SDK by DENSO.
2007

ORiN2 SDK received First Prize in the Robot Award of the Year 2007.
2011

Part of the specifications for ORiN Version 2.0 was issued as an international standard, "ISO 20242-4."
2016

The ORiN3 project was launched with support from NEDO.
2020

Specifications completed for ORiN Version 3.0.